Top 12 tips to get rid of frizzy hair!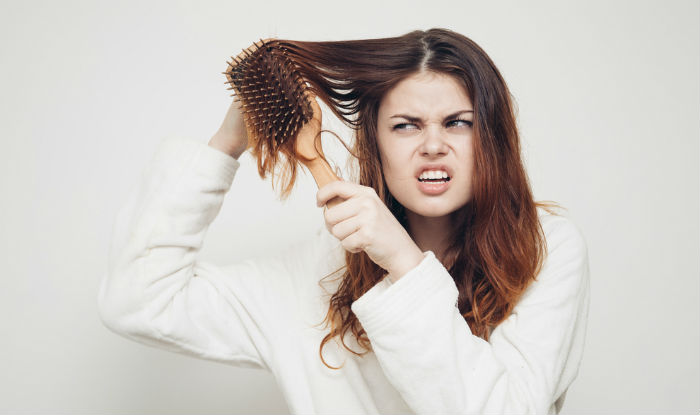 Are you tired of your frizzy hair? Frizzy hair can be quite difficult to manage, as it occurs when the hair cuticles go out of order for one or more reasons. Friction, lack of moisture, chemical damage and humidity can cause frizzy hair. But another thing that determines the appearance of hair cuticles depends on how you treat your hair before and after showering. here is some hair tips that you can try after showering to tame frizz and flaunt silky smooth hair.Read also – Is premature graying of hair giving you nightmares? Try these simple tips to prevent it
Give up the comb
If you have frizzy hair, combing your hair can create friction and can disrupt the strands of hair. You make your hair more prone to frizz by using a dry brush on dry hair. You can instead use your fingers to get rid of knots and tangles. If you want to style your hair, use a wide-tooth comb in the shower to detangle your hair. If you use the wide-tooth comb after applying the conditioner, it will also distribute the product evenly over your hair strands. Avoid metal and plastic bristle combs, you can use a boar bristle brush for dry hair. (READ ALSO Top 15 Frequently Asked Hair Questions, Answers!). Also Read – Amazing Benefits of Apple Cider Vinegar for Glowing, Plumped Skin, Shahnaz Husain Shares Tips
Do not use a hair dryer and use other heating tools
Do not dry your hair with a hair dryer, rather prefer to dry it in the open air after the shower to avoid frizz. Frequent use of this heat tool is not only bad for your hair, but the heat from the hair dryer will cause frizz. Also avoid any other hot styling tools, such as straighteners and curlers, as they can cause damage that can contribute to frizz. Save them for special occasions and before using them, use a heat protectant to avoid harmful effects. Also Read – Rashmika Mandanna Is 'Not a Gym Person', Pushpa Actress Gives Health and Beauty Advice | Exclusive
Do not rub your scalp with a towel
Using a towel can cause a lot of friction in your hair. Instead of a towel, try using a soft cloth. You can use a t-shirt to gently dab your wet hair. You can also use a microfiber cloth as it is gentle on your hair. And your hair won't get frizzy because it will help your hair lay flat while it dries.
Wash your hair less frequently
If you tend to wash your hair often, this could be one of the possible reasons for frizziness. Frequent hair washing can strip your hair of natural oils, making it frizzy. Wash your hair once every three days if you have thick hair and if you have fine hair, wash it every other day. You can also co-wash your hair; use conditioner without using shampoo to lock in all the moisture for silky smooth hair. (READ ALSO Is beer really good for hair? Here's how to wash your hair with beer!).
Apply styling products right after showering
Apply styling products as needed to your hair right after you get out of the shower, so your hair locks in all the moisture. Simply squeeze the excess water out of your hair, then use the styling product. Hair products that contain polymers and silicone help fight humidity. But do not apply the products on the scalp, apply it starting from the middle of the hair and work it well on the ends because the ends of the hair tend to get dry and frizzy.
Keep your hands away from your hair
If you keep meddling with your hair throughout the day, you're doing nothing but ruffling your hair cuticles. This creates more friction and makes your hair frizzy. Try to avoid touching your hair during the day to minimize frizz.
Avoid chemical treatments
Do not opt ​​for chemical treatments such as straightening, perming or coloring your hair as this can change the texture of your hair. Exposing your hair to such chemical treatment results in a lot of frizz, making it less manageable than before. Although you can opt for a keratin hair treatment, which will temporarily make your hair frizz-free, but when your hair starts to grow, you will have to fight the frizz again.
Use a homemade anti-frizz solution
If you know your hair is prone to frizz, make an anti-frizz solution by mixing a tablespoon of conditioner with a cup of water. Spray this solution on the ends as needed throughout the day. Wash it off at the end of the day.
Prepare a nourishing hair mask
Make a nourishing avocado hair mask. Mash an avocado and apply it to damp hair with your finger. Make sure you don't apply it to the roots, start from the middle of your hair shaft. Avocado will protect your hair and lock in moisture. Keep it for half an hour and then wash it off with water. (Also read homemade hair packs to get luscious locks naturally).
Hot oil treatment
Another method to avoid frizz is to use a hot oil treatment. Heat some olive oil and apply it on your hair. Cover your hair with a shower cap or hot towel and leave it in for half an hour, then shampoo and condition your hair as you normally would after oiling your hair. You can also use jojoba oil instead of olive oil for a moisturizing hair treatment. Applying coconut oil also locks in moisture and prevents frizz.
Use sulfate-free shampoo and conditioner
Choose quality shampoos and conditioners that are sulfate-free. Although sulfate is the active ingredient in most shampoos and conditioners, it helps remove dirt, but it also removes the natural oil that makes your hair dry and brittle. Opt for sulfate-free shampoos and conditioners to reduce frizz.
Avoid alcohol-based hair products
Hair products containing alcohol, such as hair spray, can dry out your hair and make it frizzy. Avoid all hair products containing alcohol. Check the label before buying hair products to make sure the product is alcohol-free. But there are some fatty alcohols such as lauryl alcohol, cetyl alcohol, myristyl alcohol, stearyl alcohol, cetearyl alcohol and behenyl alcohol, they don't have much drying effect on your strands of hair.
(Photographs: Shutterstock)
Did you like this story? Like our Facebook page to read more articles like this. Also, share your comments below. We would like to hear from you.