How to stop frizzy hair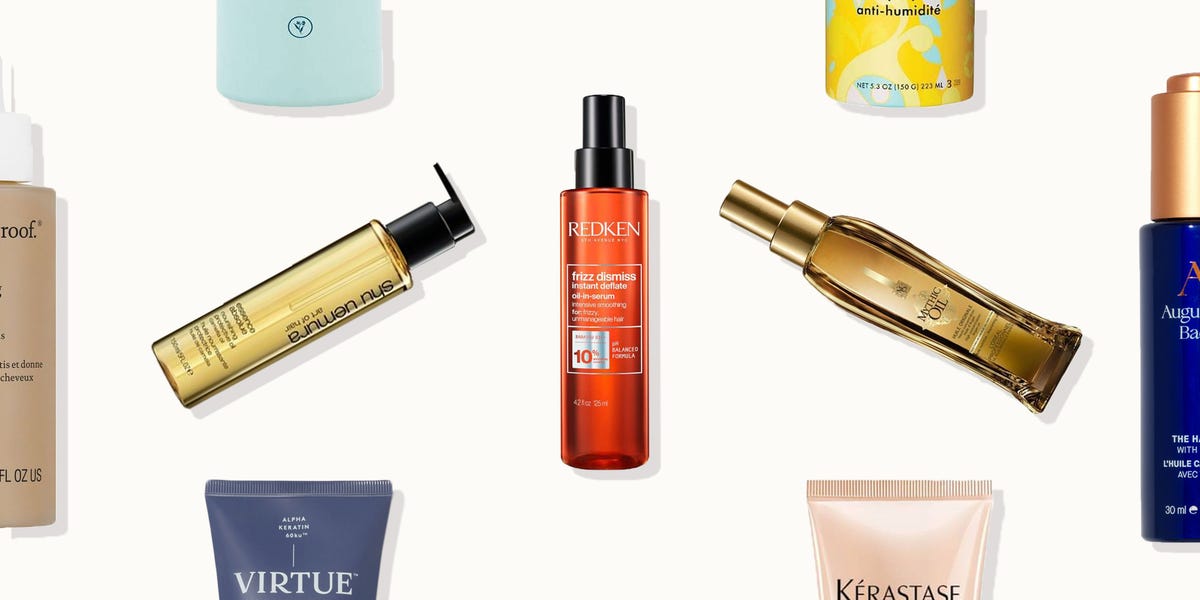 There's nothing we love more than a head of bouncy curls or flowing waves, but we're less in love with the inevitable frizz halo that seems to appear the second we step into even slightly humid weather, or got caught in an unexpected shower (which seems to be the only weather setting right now).
"Frizz affects us all to varying degrees, depending on hair type and condition," says Paul Percival, hairstylist and founder of Percy & Reed. "Plus, dehydrated hair is especially prone to swelling – so it pays to keep your locks moisturized."
If this month's persistent rainy weather has you wondering how to stop frizzy hair for good, there are several lines of attack available to you. First, find the right shampoo for frizz-prone lengths. Next, opt for anti-static, lint-free styling products that will protect each strand from the moisture in the air (whether it's humidity or a surprise downpour). Look for lanolin and silicone moisture guards on the back of the bottle – yes, silicones can be a lifesaver – plus nourishing oils to seal in dry lengths and split ends between salon appointments.
Here, we've rounded up the best anti-frizz hair products we've tried, from deep treatments to smoothing creams, and even a revolutionary mist that will define and deflate curls without messing them up.
The best products for frizzy hair
Advertising – Continue Reading Below
1
Anti-frizz oil
Living Proof's No Frizz mainline has been a secret weapon for many curly-haired people for a while, but this recent addition is a real game-changer.
It's a sheer oil (rather than a slippery serum) but it's so lightweight that it disappears into even the finest strands, leaving no greasy streaks: we promise. What it does, however, is completely seal the hair fibers from moisture, preventing frizz all day long. Just a few drops in damp hair will make curls more defined and straight hair smoother. A hero.
2
Total Results High Amplification Lamellar Treatment
Lamellar treatments are one of the most exciting hair innovations of recent years. Think of them as a water-based conditioning treatment, working to repair damaged sections of hair while providing softness and shine to rival a long salon session.
Matrix's offering may not be the best-known lamellar treatment, but the no-waste precision nozzle and sophisticated scent make it our top pick.
Apply it to freshly shampooed hair in the shower, let it sit for a few seconds before rinsing, and follow with conditioner if your hair is thicker (or more damaged). The sleek and shiny transformation will convert you after just one use.
3
Oil-free volumizer for fine hair
Fine hair can also be frizzy, but many straightening products are too heavy for easily weighed down lengths. This smart oil is carefully formulated to penetrate fine strands without leaving them greasy. It will stop flyaways and add enviable shine.
4
hair oil
Everyone's favorite luxury skincare brand has branched out into haircare, and the collection doesn't disappoint.
The hair oil is a real highlight, combining argan oil with pomegranate and baobab to nourish dry, brittle locks. A little is enough: add just a few drops to damp hair to transform your blow-dry.
For finer hair types, we recommend The Hair Treatment, which repairs and restores without weighing you down.
5
The Shield Anti-Humidity Spray
This awesome humidity-busting mist is especially beneficial on curls and curls because you can spray it directly onto dry hair without disturbing your natural texture. Like magic, it will lower the volume in an instant, shielding you from unexpected showers throughout the day.
6
Frizz Dismiss Instant Deflate
Combining the silky properties of a serum with the moisturizing benefits of an oil, this one is a hero for extra-thick, super-frizzy hair. Slicked into damp lengths, it will eliminate the puffiness that occurs after blow-drying, and when applied to dry hair, it will protect from rain-induced chaos.
seven
Mythic Oil
L'Oreal Professional
£14.75
This highly rated serum is truly one of the best products for rebellious, frizzy hair. It's formulated with deeply nourishing argan oil, yet feels satisfyingly lightweight on parched ends, and even has enough heat protection to keep you safe during a session. appropriate smoothing. Oh, and did we mention the Major does it shine?
8
Essence Absolue Nourishing Protective Oil
Shu Uemura Hairstyle Art
£36.90
Perhaps Shu Uemura's best-known product, this silky smoothing oil-serum is the star of the brand's prestigious Essence Absolue line.
Combining protective silicones with pure Camellia Seed Oil, it works as both a styling and conditioning product, smoothing frizz and flyaways while nourishing over-straightened ends. Every hair type can get along with this one: just adjust the amount you use depending on the thickness and length of your hair.
9
CopperSure Quick Dry Hair Wrap
If air-drying your curly hair takes time, but the blow dryer only invites frizz, this unassuming hair hero might just offer the solution. Made from copper-infused antibacterial fabric, this smart turban absorbs excess moisture, allowing strands to dry quickly. The result? Perfectly shiny, defined curls without the frizz and skimpy strands.
ten
Polish anti-frizz cream
Part styling product, part SOS treatment, Virtue's anti-frizz cream works harder than most. It contains the brand's signature Alpha-Keratin 60ku® protein, which binds to damaged sections of each strand, repairing broken ends without relying on silicones to make things shine. A true hero that suits all, it will soften and settle frizz in all hair types
11
Supernatural Dream Coat Spray
The reviews should tell you everything you need to know about this one. A brilliantly unique formula that really delivers, it contains a heat-activated polymer that essentially waterproofs every strand of hair, preventing humidity and rain from ruining your super sleek style. Spray it on before using your blow dryer and heated tools for hair that feels light, but magically resists the urge to frizz.
12
Curl Manifesto leave-in cream
Kérastase's recent curly hair range becomes all the hype, and for good reason. One of the stars, this leave-in cream reduces puffiness and flyaways in naturally textured hair, without making curls crunchy or sticky: no small feat.
13
Farewell Frizz Rosarco Milk Leave-In Conditioning Spray
A milky formula will generally be lighter than an oil-based formula, which is good news for those with fine, unruly hair. Briogeo's lightweight spray is one of the best: just spray it on damp or dry lengths for a dose of anti-frizz hydration.
14
Manketti Oil Finishing Mist
This ultra-fine mist is a lighter alternative to Charlotte Mensah's original Manketti Oil Serum and can be sprayed on damp or dry hair to lock in moisture and protect textured strands from frizz. It's easily absorbed but packs a serious hydrating punch and has the trademark decadent heady scent.
15
Smooth Infusion Style Prep Hair Straightener
We love Aveda's no-nonsense approach to avoiding frizz. The entire Smooth Infusion range is designed to reduce humidity-induced puffiness: the products you choose will simply depend on your styling desires.
If you're a low-maintenance person, the shampoo and conditioner should have you covered, but for anyone who tends to straighten or style their lengths, this herbal prep cream will protect against the heat. and will lock in moisture for 12 hours. hours. It is particularly good in a bouncy blow-dry.
This content is created and maintained by a third party, and uploaded to this page to help users provide their email addresses. You may be able to find more information about this and similar content on piano.io
Advertising – Continue Reading Below