A hair serum is the ultimate styling product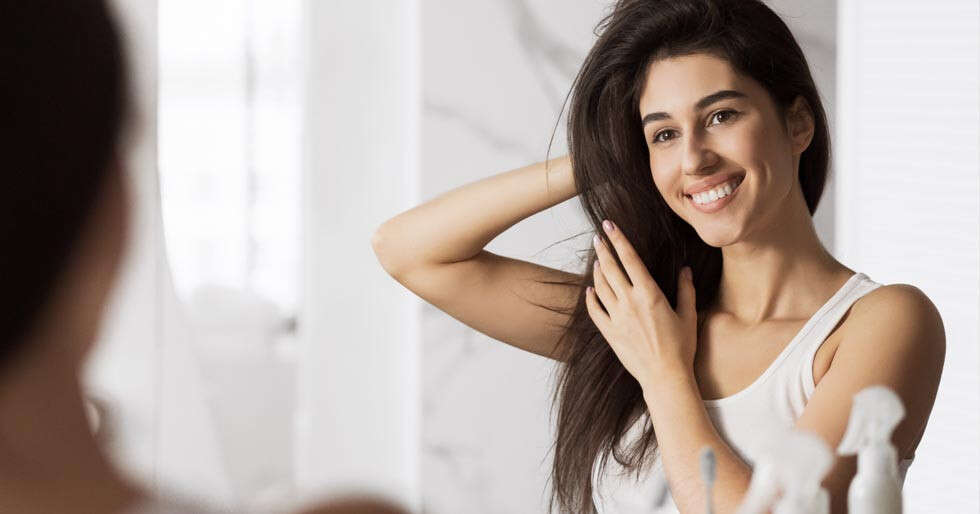 Image: Shutterstock
While we consider summer heat and humidity to be the most damaging to hair health, dropping temperatures and applying heat can also damage hair. Frizzy hair, brittle hair, dandruff and rough ends could be some hair issues that one might face during winter. Most of us have a routine for taking care of our hair during the summer, but it could be a challenge during the cold months. If you haven't yet included a hair serum in your hair routine, now is the time to invest in one.
What is a hair serum?
First of all, a hair serum is not an alternative to hair oil. It is a liquid-based product that is used to form a protective coating on the hair to prevent damage from chemicals and environmental aggressors. A hair serum is used to prevent frizzy, unmanageable hair and to give the hair an extra boost of shine, moisture and softness. Similar to a face serum, a hair serum is used to prep the mane for styling, to reduce frizz and allow you to twist and twist your hair and even as a final product to lock in the look. In a way, it acts as a primer for your hair before styling it.
Use hair serum in daily routine
Hair serum is important to prepare the hair, especially in winter. The cold temperature removes moisture from the hair, making it dry, frizzy and unmanageable. As mentioned earlier, a hair serum acts as a primer for the hair and also forms a protective layer around the follicle to prevent it from getting damaged. Just take 1-2 pumps on your palm and spread it evenly between your fingers. Then, run your fingers along the length of damp hair to evenly distribute the serum and let it air dry. Pat down flyaways and tame extra frizz and you're done! You can pump a few more times for more amount in case of longer hair.
If you're looking for a product that works this winter season, go for Livon's Rough & Dry Hair Serum that reduces frizz on dry, flyaway hair and gives you salon-smooth hair instantly. This allows you to style your hair with ease. With the benefits of Vitamin E and Argan Oil, it adds shine and shine to hair.
Choose the right serum
There is no single product that suits all needs and all hair types. While some may feel heavy for fine, light hair, the rest may be too light if you have voluminous or curly hair. Through technology and product innovation, there's a serum for every hair type and every concern, including treating frizz, dry, rough and unmanageable hair, detangling, adding shine and softness and protection against damage during heat styling. Also, be sure to read the ingredients to make an informed decision.
Benefits of Hair Serum
It protects hair from environmental damage such as pollution, temperature extremes, dust and added stress.
It provides protection against harmful UV rays, heat and humidity.
It adds extra shine to the hair while smoothing it out and releasing tangles and knots.
It locks in moisture and prevents it from evaporating until the next wash, ensuring well-hydrated, healthy-looking hair.
It acts as a primer, especially when the hair needs to be styled regularly.
Some serums also offer protection against damage caused by the use of heating devices.
Its ingredients reduce hair breakage and help make hair smoother and shinier.
Subscribe to our YouTube channel
People Who Viewed This Also Viewed